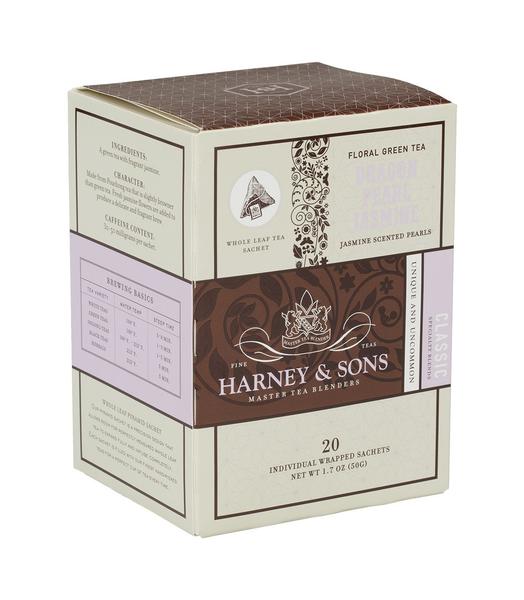 DRAGON PEARL JASMINE
What a wonderful tea! We look long and hard to find a tea that is both sweet and very floral. Please enjoy it, and there is no need to alter it all.
This is a masterpiece from Fuan, China. Beautiful little hand-rolled pearls are gently infused with the floral essences from jasmine flowers. The tea is a piece of art, and the light-coloured brew is full of floral and sweet aromas. Amazing!
HARNEY'S REVIEW:
There was a time, and it was not too long ago, that there was no Dragon Pearl Jasmine. Now the world is a better place. These are hand rolled by ladies in Fuan in northern Fujian Province. Mike met the lady that originated this lovely tea. He thanked on behalf of all tea drinkers.
(20) Individually wrapped silken satchets.
TEA:
Dry Leaves, Small rolled "pearls" of faded green and white leaves. They are very pretty.
LIQUOR:
A light and clear liquor that is tinged to a pale yellow.
AROMA:
There is no question here: Jasmine and more jasmine!
BODY:
This is a medium bodied tea.
CAFFEINATED
BREWING TIME:
3 minutes
BREWING TEMPERATURE:
175° F